Combinations


Hello there Idle Champions fans! This Guide will guide you on your journey to unlock hopefully every currently active combination.
Please Note: Since some combinations may only have limited uses or expire after a certain amount of time, code lists need to be updated frequently. To get the latest code, check Discords #combinations channel or reddit.
Combinations are 12 or 16 character phrases that can be input into the combination dialog in game to unlock free chests, and other in-game items, including skins and the occasional Champion! These special promotional codes are used to promote the game. Most are released in streams. Others may be send to you in the newsletter, or may come with real life products or real life events. Some of the combinations are only active for a few days, others are valid for the entire year, and one-account-use-only codes do not expire. Codes in the below list typically last about a week.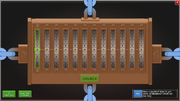 To use a combination, you'll need to open up the combinations dialog. It is accessible from the shop via the "Enter a combination" button at the top right, or from the Chest screen via the
button at the bottom left or the chest

displayed near the stairs.
Open the Shop by clicking on top menu
button or pressing hotkey "S". Or open the Chest Screen by clicking on top menu

button or pressing hotkey "O".
In the combinations dialog you can scroll the wheels with the arrows, type with your keyboard or paste the code if you wish. After you enter the code press unlock button or hit Enter.
Please don't add combinations you get from Newsletters, they are unique and can only be redeemed once.
Combinations most likely will eventually expire. Do NOT remove codes after their expiration date has passed- Combinations may be valid for a few days longer. Only remove combination you are sure have expired by testing them in-game.
If you find that a combination is past its expiration date and yet still works, please add "Unknown" to the "Expected Expiration".
Please contribute to the community and add new combinations which aren't already submitted to the table. Always add new codes to the top of the list, disregarding any chronological order. Thanks!
Only add combinations that can be redeemed multiple times. Do NOT add codes from newsletters, as these can only be redeemed by one person each.
If you subscribe to the newsletter you
get a code to unlock the champion Hitch or unlock him automatically, depending on your platform
get a weekly, unique code for a weekend Chest every friday/saturday. (mobile platforms skip the redeeming process, just as with Hitch).
Sign-up in-game from the main menu! - Never expires.
STEAM ONLY!
Level 1 Strong Shield 2) 2 Gold Chests https://insider.razer.com/index.php?pages/giveaway/&id=idle-champions
Celeste's Starter Pack https://eu.alienwarearena.com/ucf/show/1944853/boards/contest-and-giveaways-global/Giveaway/idle-champions-of-the-forgotten-realms-celestes-starter-pack-key-giveaway
Download the Dragon+ (Android, Apple) app, and then click on the Limited time: Free Chests for Idle Champions of the Forgotten Realms news link will give you a unique code to unlock 2 Gold Chests in game. - Expired on September 25, 2017.